Now look, I'm not trashing the Stu overall. The gameday atmosphere is incredible. I'm appreciative of what we've built as a program, including the sellout streak. But to most outsiders, the arena looks small time on TV. I've heard VCU Athletics say that they're hesitant to expand the Stu. I completely understand. The national trend is more challenging to get butts in seats at sporting events. If they expand significantly, that takes away the premium that they can charge on the 7,600 seats that currently exist. All I'm asking is that we give the arena a makeover so it doesn't look like a high school cafeteria on national television. Remember when ESPN execs came to a game to see if we were a viable fit for College Gameday? And then it never happened? I don't think it's any coincidence. It straight up looks bad on TV, though that's no fault of our fans, students, and players.
So it's time we looked ourselves in the mirror and admit we can do better. What can we do to give it a sleeker and bigger look on television without breaking the bank? I know
@Natty
had some good ideas. To anyone who says it's not possible, I'm embedding images of mid-major arenas that seat less than the Stu and still look better on television. Included is the Robins Center. Roll your eyes all you want, but it's true that the gameday atmosphere pales in comparison to The Stu AND looks much better on television.
Fertitta Center, Houston (7,100):
McCarthey Athletic Center, Gonzaga (6,000):
Richmond, Robins Center (7,201):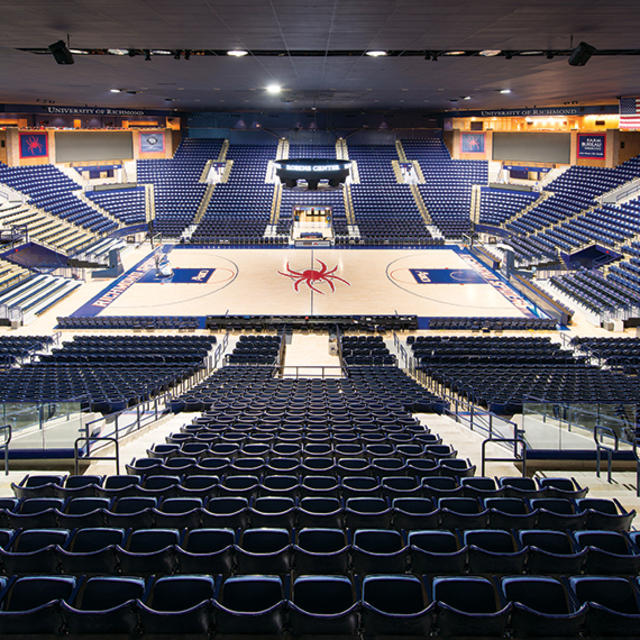 The Stu (7,600):