Apr 22, 2009
17,455
20,411
You mentioned Anti abortion, Tea Party,

While I do not agree with the destruction at all. I also do not agree with the lack of progress in granting a group of American citizens their full rights and the needs for some to continue to support a system that is inherently racist.
Is the system racist or are the people in authority charge of the system just morally corrupt
DC has elected black democratic mayors and a prominently black city council for the last 50 years. They have the some of the most comprehensive progressive policies for equal opportunfity housing and employment in the united states
And yet. They are constantly rocked with scandal and corruption. So much so. that dc government has an internal weekly publication which tracks dc government on a weekly basis.
A lawsuit filed by the city accuses the District of Columbia Housing Authority of endangering over 5,000 tenants in 10 public housing properties.
www.google.com
lawsuit filed by the city accuses the District of Columbia Housing Authority (DCHA) of endangering over 5,000 tenants in 10 public housing properties.
The suit also alleges that the D.C. Housing Authority also endangered the surrounding communities in Wards 1,5, 6 and 7, by failing to confront "drug- and firearm-related nuisances at the properties,"
a news release
from the D.C. Attorney General's Office said.
"District law requires building owners such as DCHA to maintain their properties and take reasonable precautions to protect their tenants and properties from crime," Attorney General Karl Racine said.".
response to complaints from residents, our office repeatedly warned DCHA about dangerous and illegal activity at their properties, putting tenants—especially children, seniors, and residents with disabilities—at risk."
The properties named in the suit include Kenilworth Courts Apartments, Langston Terrace and Additions, Lincoln Heights Apartments, and Richardson Dwellings Apartments in Northeast; LeDroit Apartments and Kelly Miller Apartments in Northwest; James Creek Apartments and Syphax Gardens Apartments in Southwest; and Benning Terrace Apartments, Stoddert Terrace Apartments, and the public housing properties formerly known as the Arthur Capper/Carrollsburg Apartments in Southeast.
Court documents said that between January 2019 to May 2020, D.C. police responded to over 5,270 incidents at the properties, including homicides, shootings and drug offenses.
"Of the more than 5,270 incidents MPD has responded to since January 2019, more than 1,000 have occurred at James Creek Apartments in Ward 6 alone," the news release said.
The lawsuit said that residents and the D.C. Attorney General's Office have asked for actions, such as increase security presence, lighting and camera, but the housing authority "has failed to respond to both."
Law enforcement has regularly seized drug and firearms when executing search warrants at the properties, the D.C. Attorney General's Office said.".
Here is what was happening at the dc tax department for a 30 year period before they got reorganized and overseen by an independent arm with in the dc government supported.
Harriet "Mother Harriethttps://en.m.wikipedia.org/wiki/Harriette_WWalter's.https://www.nytimes.com/2009/07/01/us/01embezzle.html
The mastermind behind an embezzlement scheme that took nearly $50 million from the District of Columbia's government was sentenced Tuesday to 17 and a half years in prison and ordered to pay more than $60 million in forfeited assets, restitution and taxes.
The woman, Harriette Walters, 52, is the last of 11 people to be sentenced in what officials have described as the largest and longest-running embezzlement scheme in the city's history.
For nearly two decades, Ms. Walters used her job as a tax manager for the district treasury to issue $48 million in bogus property tax refunds for herself and her co-conspirators, who included family, friends and a bank manager. She told investigators that loopholes in software and lax internal controls had allowed her to carry on undetected.
Ms. Walters pleaded guilty in September to wire fraud, conspiracy to commit money laundering and tax evasion..
Then there's the dc public school system.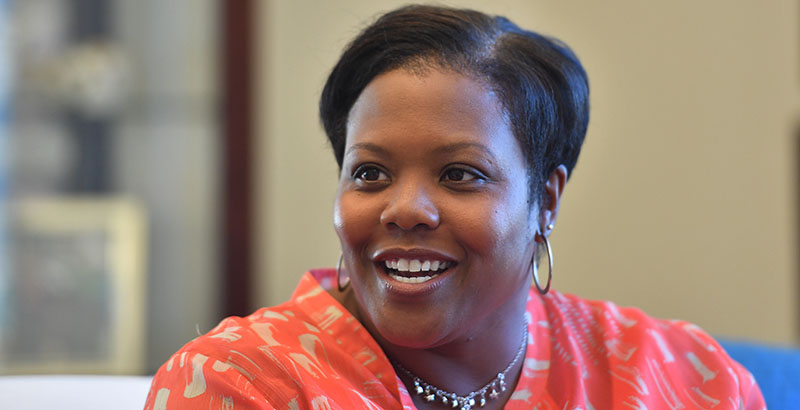 Two years ago, D.C. Public Schools was seen as a place where the best and the brightest utilized world-class systems designed by pre-eminent experts to drive transformational gains. Today, it's hard to keep track of the scandals. This is not a case of a fall from grace. The fake success and true...
www.the74million.org
/www.washingtoncitypaper.com/news/article/13046988/hunger-games" target="_blank">case
to DCPS that its food vendor had
cheated
the district out of $19 million and served students rotting food. A few weeks later, then-Chancellor Kaya Henderson, in
violation of ethics rules
, solicited a $100,000 donation from the corporation, and its contract was later renewed.
Then there was the school discipline scandal. The much-vaunted 40 percent decrease in suspensions under Henderson's leadership was an artifact of
systemic fraud
. Pressured to lower suspensions, principals simply took them off the books. At least one top-level official, Jason Kamras, was
told
. Either Henderson knew she was getting credit for fraudulent gains or she had no clue what was going on in her schools.
Then there was the graduation rate scandal. The much-vaunted 20 percent
increase
in graduation under Henderson and her successor, Antwan Wilson, was also an artifact of
systemic fraud
. Under pressure to increase graduation rates, principals no longer required that students attend school to receive a diploma. Either Henderson and Wilson were aware that they were getting credit for fraud or neither ever examined basic attendance data.
Then there were the nepotism scandals. Henderson let the kids of high-ranking officials
cut the line
to attend better schools. Wilson vowed never again, then did
the same thing
for his own daughter.
Just this week, a new scandal broke about widespread
enrollment fraud
at a prestigious high school. Officials had slow-tracked the investigation for fear of bad publicity in an election year.
How the heck can lower income black dc families make any progress when dc government (predominantly run by black progressive leaders at every level)
1. Makes them lives in environmentally dangerous and publically unsafe housing.
2. Embezzled their tax dollars for 30+ years and is still doing even under the new organisational structure.
3. Cant provide them a safe environment to learn in and lies about education reform and is cheating students out of an education
Moral bankruptcy is color blind and those who are morally corrupt find a way to take advantage of their positions..sometimes it involves racism..but not all the time.
If you elect and or select people of good reliable character and place them in positions of authority then the problems go away including police brutality.