Joined

Apr 19, 2009
Posts

13,106
Likes

16,689
About the University of Akron:
The University of Akron is a public urban university of approximately 28,000 total students. It was founded in 1870 in Akron, Ohio. The University's main claim to fame is as a world leader in polymer research, which focuses mostly on industries such as polymers, advanced materials, and engineering. Notable Akron alums include Chase Blackburn, Charlie Frye, Domenik Hixon, Dwight Smith, and Jason Taylor, all of whom played in the NFL. Hixon and Blackburn were members of the 2008 NY Giants SuperBowl Champion team, while Smith won one with the Tampa Bay Buccaneers in 2003. Jason Taylor was NFL Defensive Player of the Year in 2006.
Zips Basketball History:
The Akron program has experienced a resurgence with the hiring of Coach Keith Dambrot in 2004 and they have been building upwards from that time onward. However the Zips basketball program has had little to boast of in the way of tradition or history before that. They had a single NCAA tournament appearance in 1986 as an Ohio Valley Conference member when current West Virginia coach Bob Huggins roamed the sidelines in Akron. They lost as a 15-seed to 2nd-seeded Michigan by a score of 70-64. After that Huggins left for greener pastures and the Zips basketball program languished in relative mediocrity for the rest of the 80's and 90's.
Former Akron Coach Bob Huggins
Enter
Keith Dambrot
. His is a redemption story of sorts. He moved his way up in the coaching ranks in the mid-80's at the D2 level and eventually took over for Charlie Coles at MAC-member Central Michigan during the 1991-1992 season. He only lasted for 2 seasons after making a controversial comment before the Miami game saying "You know, we need some tough (N-word)'s on our team." The controversy surrounding the comment led to him being relieved of his coaching duties. The incident marred his reputation and college programs wouldn't touch him as a result. In 1998, he started coaching at St. Vincent-St. Mary's HS in Akron. He coached for 3 years, garnering a 69-10 record, with some guy named LeBron James present the last two years of his tenure. In 2001-2002 he took an assistant spot at Akron and subsequently became head coach in 2004. Our very own Shaka Smart spent three seasons (2003-06) as an assistant coach with the Zips, two of which were under current Akron Coach Keith Dambrot.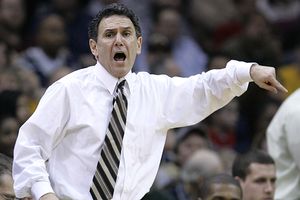 Current Akron coach Keith Dambrot
Since Dambrot took the reins, the Zips have never won less than 19 games (he's 97-38 overall with Akron) and led the Zips to their first postseason win ever in the 2005 NIT over Temple and then a second NIT win over Florida State in 2008. He also took the Zips back to the promised land of the NCAA tournament last year when they went up against 4th-seeded Gonzaga as a 13-seed and stuck around for awhile before Gonzaga's depth and athleticism took over and Gonzaga ultimately won by double-digits 77-64. Dambrot has slowly but surely built a fledgling mid-major program that aspires for high mid-major status and looks to be well on their way towards that goal.
The Rams have never lost to Akron, leading the all-time series 4-0. The teams played two games in the '69-'70 and '70-'71 seasons before this current stretch of Bracketbuster games.
The 2009-2010 Zips:
The selection of the Zips as the Rams' Bracketbuster opponent yet again had many fans in Richmond grumbling, especially given the RPI disparity at the time. Since a major slip-up against Eastern Michigan, the Zips have gone on a tear, winning 5 games in a row while the Rams have stumbled as of late, blowing double-digit half time leads on the road at George Mason and James Madison. The Rams rebounded at home (where they have been dominant with a 13-1 record, but 5-6 on the road) and pounded Drexel by 19 points behind Larry Sanders 29 points, 13 rebounds, and 5 blocks. The Zips currently sit at 20-7 overall in yet another 20+ win season for Coach Dambrot.
The Zips are remarkably like the last Ram's opponent in Drexel in their slow half-court, defense-first style of play. They average 70.5 ppg while allowing 63.3 (The Rams average 76.5 and give up 66.7). The Zips are quite deep and balanced with 9 players averaging double-digits in minutes played, 7 of which average more than 7 points a game. They are led by
6'6, 245 pound junior forward Brett McKnight
who is the only double-digit scorer at 10.4 points a game. McKnight scored 12 and had 5 boards to lead Akron in the matchup at the Siegel Center last year. They have a plethora of players averaging 7-10 points to complement him as well.
Jimmy Conyers
has stepped up in this his senior season after being highly-touted and dissapointing in his first 3 years. He has put it together this year and is second in scoring at 9.6 points along with 6.7 boards a contest. Sophomore
Humpty Hitchens
is Akron's version of Joey Rodriguez and is their primary ball-handler. He is quick and can really stroke the 3-ball when he's in the zone. He does have maturity issues however and has been suspended for lackluster academic performance before this year.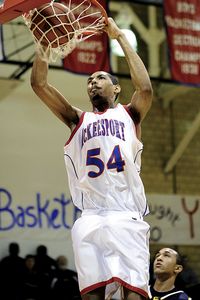 Big-time Zips recruit and freshman forward Zeke Marshall
The most interesting player has to be
Zeke Marshall
who was a highly-touted (albeit very raw) 7-foot recruit who was a consensus top 50 player and a 4-star recruit by the major scouting services. He was easily one of the best mid-major recruits in the nation. He hasn't exactly taken the MAC by storm, but he has shown considerable potential and has a soft touch for a big man. He is a lot like Larry Sanders in his length and shot-blocking ability. He would likely remind most Ram fans of Larry Sanders as a freshman. It will be interesting to see if Dambrot matches up Zeke with Larry as they give up a lot of size at that position otherwise.
DB's Keys to the Game:
1.
Impose Tempo:
The Zips want to slow the tempo (they average a tad over 70 points a game) and they don't want to run with VCU. The Rams have superior athleticism and length on the floor and need to exploit this advantage. Make this game a track meet and Akron will not be able to keep up.
2.
Go to Larry early and often:
There is a size matchup with the McKnight brothers as the primary frontcourt players. At 6'7 and 6'6, they are giving up a lot of height to Larry and Skeen at 6'11 and 6'9. We need to pound the ball inside to Larry and Jamie and get the Zips bigs in foul trouble. Zeke has the length to matchup with Larry but is still raw and will likely not see too many minutes due to his inexperience. The frontcourt is a marked advantage for the Rams and we need to exploit that.
3.
Offense must be predicated off of the defense:
There must be a full commitment to defense on the press by the Rams. Hands must be up and we need to close on the ball-handler without commiting cheap fouls 70 feet away from the basket. The Rams average 8.4 steals a game to Akron's 5.9. We need to turn the Zips over on the press and score baskets in transition. Get Larry running the floor which is what he does best and the guards attacking the basket to draw fouls and get to the line.
DB's Prediction:
The Rams have shown a troubling propensity to drop road games, but this one is at home where the Rams have a serious homecourt advantage. If this one was on the road, it would be a much harder decision, but with the 16th best home-winning percentage in the country the Rams are a good bet at home. The Rams win in front of a national audience on ESPNU and 7,500 screaming fans at the Siegel Center on Saturday. Rams by 9 points.
GO RAMS!